My love of traveling is in my blood, and runs deep in my veins. I love experiencing and witnessing various flavors of architecture and design from different cultures and time. I enjoy admiring palace interiors that represent their glorious times, and adoring lavish hotel decorations. On this page, I would like to share my experiences. Keep checking back, and let's see the world and its interior beauty.
Louis Vuitton
Bond Street - London, UK
I saw a picture of this store online, but the picture didn't do justice to how magnificent the design is. The floor is a beautiful travertine, and the interior detailing is craftily designed and made. If Hogwarts has an LV store, it would look like this!
Guerlain
Champs Elysees - Paris, France
A rhythm of bubbles serenade shoppers from the balcony and invite them to come in. Refined fragrances from beautiful perfume bottles fit for Napoleon lingers in the air as my eye wander around the larger than life designs. Each alcove has a unique design that showcases specific product lines.
%Arabica
Kyoto, Japan
This coffee shop is almost invisible under the trees that blanket the mountains south of Kyoto. The espresso machine is accented with wood, which is considered an important aesthetic element in Japanese design. The rest of the décor is left intentionally bare to not distract the natural scenery outside.
Dior
Avenue Montaigne - Paris, France
The design setting on the first floor is very modern with clean aesthetics, a reflective floor, sleek chrome accents, and minimal architectural details. Venturing to the second floor, the salon is filled with a wide array of exquisite vintage pieces and pictures for a sense of home and exclusivity.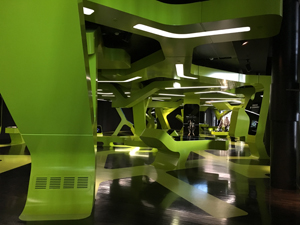 Level Green Autostadt
Wolfsburg, Germany
This artistic exhibition is very creatively put together, and involves visitor interaction to learn the concepts of sustainability.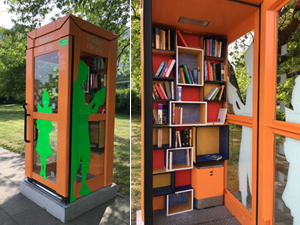 Community Library
Berlin, Germany
It's an old telephone booth that was transformed into a community library. What a smart idea, and it looks pretty.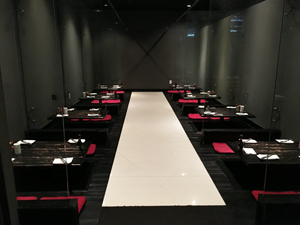 Mokutanya
Burlingame, CA
Vermillion-red cushions, horigotatsu (sunken seats), and tall glass walls are some of the design elements that make this restaurant look amazing and fun.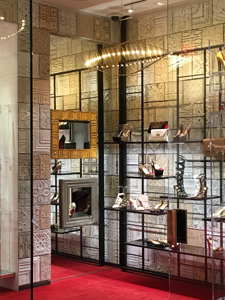 Christian Louboutin
Forum - Las Vegas, NV
Of course it ain't Louboutin without its signature red lacquered sole. The boutique design is seductive, belle époque, and festive.
Potsdamer Platz Arkaden
Berlin, Germany
Berlin is a city with rich history. The history is plastered everywhere throughout the city. This is a mall embellished with pictures of the historical evolution of the city. Dark wall panels, vintage elevator floor indicators, strips of black and white historical pictures emits an austere and somber atmosphere.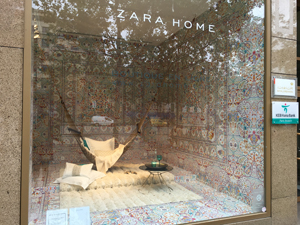 Zara Home
Champs Elysees - Paris, France
Repeated materials across the floor and walls create a boundless backdrop. The barely floating hammock with plush rugs facing Champs Elysees is a perfect spot for people watching. Ironically, people are watching this empty hammock instead.
Julian Serrano
Aria - Las Vegas, NV
Located right next to the Aria lobby, this restaurant's décor is successfully able to keep up with the energy of the urban and chic hotel guests. An array of colorful tiles, which form vertical stripes on the walls, houses bottles of top shelf liquors. Keeping with Spanish themed colors, and seasoned with modern elements, this sleek interior design follows the new trend to create a new Las Vegas experience for its visitors.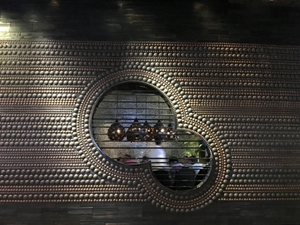 Javier's 
Aria - Las Vegas, NV
When dazzling Las Vegas visitors with glitters and feathers is not enough, designer Dodd Mitchell raised up his ante by adding drama to this impressive private dining wall. Dark wooden panels are encrusted with nail heads and crafted metal that reinterpret the ancient Aztec mosaic. And the result is…so Haute!
Wynn
Las Vegas, NV
The magic doesn't stop in Disneyland. My eyes never stop roaming around trying to capture every fabulous inch this place offers. Every turn I make is always full of surprises from floor to ceiling. Even after many visits to this place, the magical experience at the Wynn stays alive. Viva Wynn design!
Yardbird Southern Table & Bar
The Venetian - Las Vegas, NV
Yardbird is a southern style restaurant. They serve fried chicken (must try), fried green tomatoes, sweet tea, and bourbons. The rest of the menu is a mix of American cuisine, and so is the design style. The décor has a farmhouse feel infused with many industrial inspired elements and reclaimed wood. Overall, it's a lovely restaurant with Southern hospitality.
Starbucks
Crystal City - Las Vegas, NV
Either you step up or step down to get your cup of joe, this organic structure entertains your eyes from all directions. The design is a total contrast of the perfect lattice crystal inspired building where this coffee place is located. Perhaps there is a hidden message behind this organic structure from the giant coffee empire.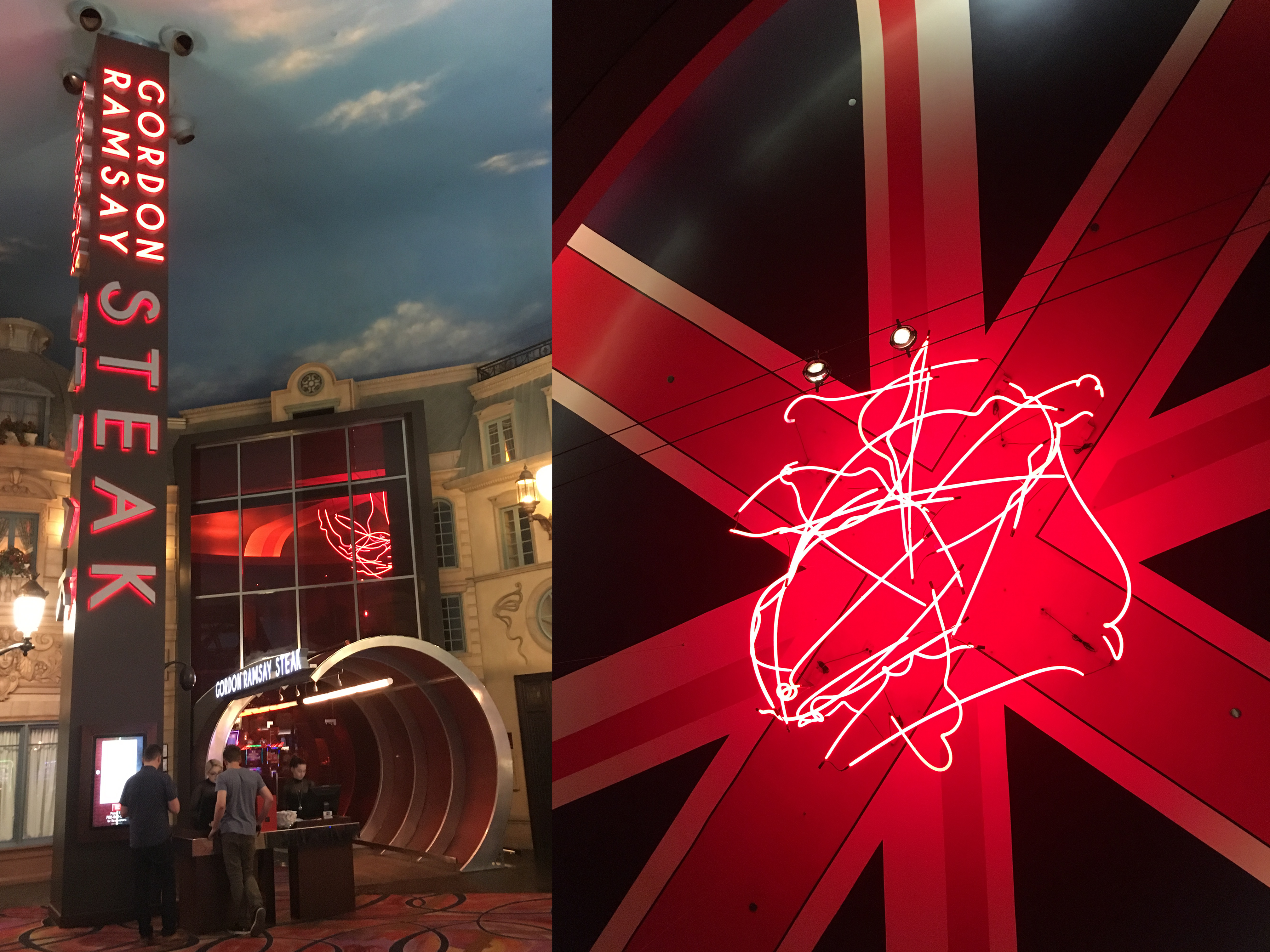 Gordon Ramsay Steak 
Paris - Las Vegas, NV
On the Paris Las Vegas floor the Gordon Ramsey Steak sign rises to the "sky", and next to that sign is the "Channel Tunnel" that takes visitors straight to London. The restaurant atrium ceiling is painted with the British flag to signal visitors that they are in British land. The squiggly neon lights supposedly represent Chef Ramsey's mixing strokes (so I was told).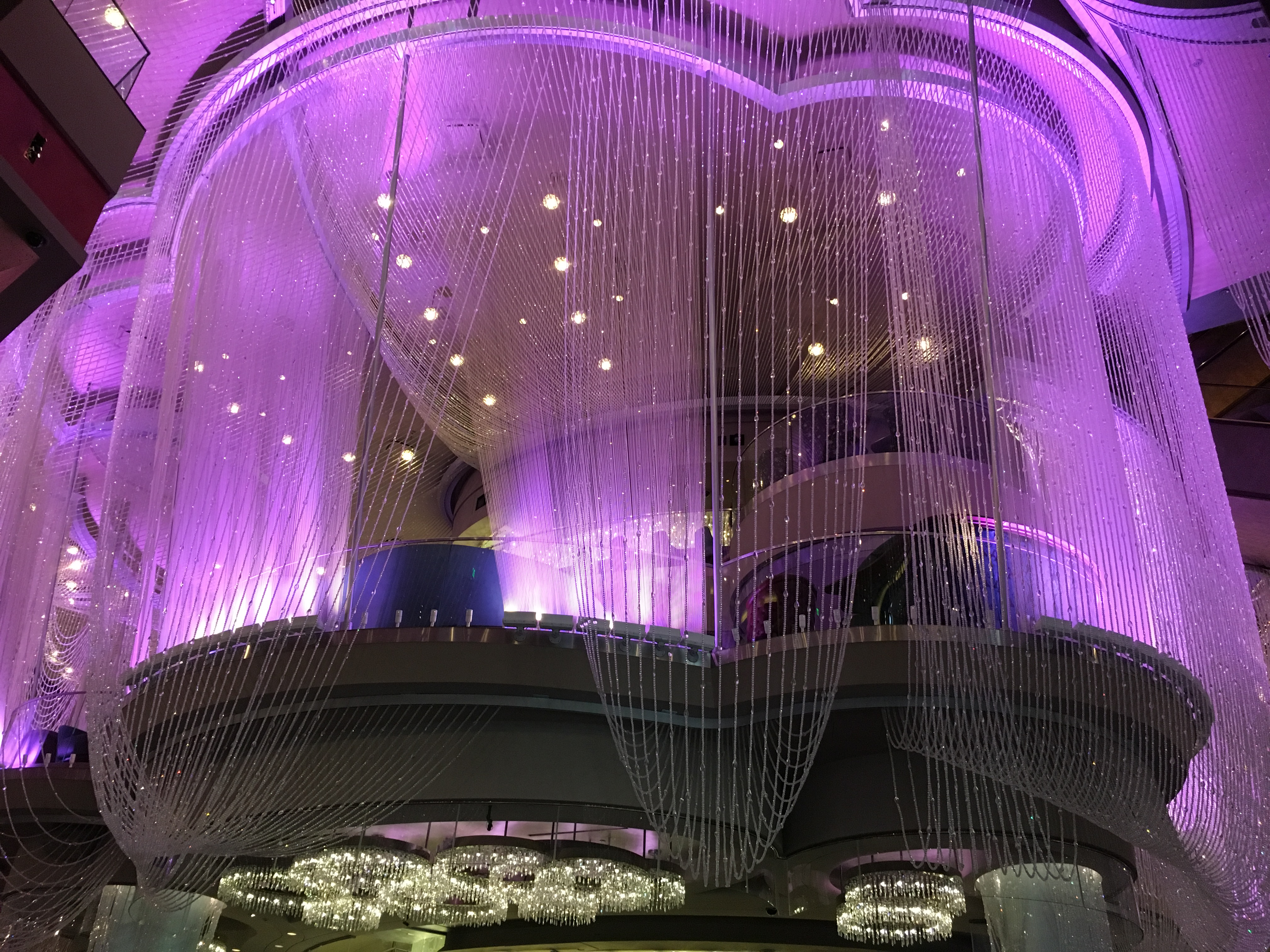 The Chandelier
The Cosmopolitan - Las Vegas, NV
Layers upon layers of crystal chains over 60+ foot high cover this Chandelier bar, and made me want to reach in through those crystals and sip a cosmopolitan behind this out-of-this-world bar. The bar's design is a signature Rockwell Group design that creates drama, and choreographs with its audiences.
Fun Lighting
BMW Museum - Munich, Germany
The light installations are replete with the same colors of the cars below to continue the visual interest. The whole displays are adorable and interesting.
The Granary La Suite Hotel 
Wroclaw, Poland
This hotel bathroom is a text book designed bathroom. Combinations of shapes, textures, mass, and patterns are skillfully incorporated and balanced. The juxtaposition of the smooth black tiles and caramel stained wood is simple and pleasing. I am not digging the shower curtain though.
Ted Baker Boutique
Malibu, CA
Ted Baker's boutique designs vary from store to store. The Malibu boutique is unique; it has a playful note. The use of pastel colors and ABC blocks make this boutique more fun, because "Ted loves Malibu."
Various Places in Munich 
Munich, Germany
I LOVE intricate store/pub signs in Europe. They remind me of childhood fairytale stories.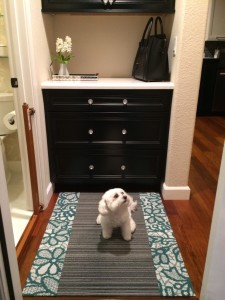 Busy Carpet
Redwood City, CA
Amazing ideas by Flor...customized carpet design for a busy entrance.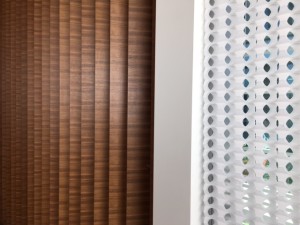 Rigid + Fragile Window Treatments
Genentech South San Francisco
This contrasting material combination is brilliant! Though I'm not sure about the honeycomb looking window treatments for a busy office. It feels as fragile as it looks.